We hire out two sizes of hog roast machines the bigger titan hog roast machines which can cater for all sizes of celebrations and the professional hog roast machine ideal for events with up to 50 people. Here at Spitting Pig Hertfordshire we have the benefit of being able to draw on twenty years experience of what you need a hog roast machine to do. You want it to look great, you want the customers to be able to see the pig whilst it is cooking, you want it to do the job it is supposed to do and you want it to be as easy as possible. This is exactly what our hog roast hire machines do! Because all of our hog roast machines are built by Spitting Pig, who have learnt by using the machines daily for twenty years what the machines need to be able to do, the hog roast machines are easier than ever to use, meaning that anybody can now have a hog roast party. If you hire a hog roast machine from us, it will be delivered with you and collected, with full instructions of how to use it. With or without a hog to roast, the choice is yours. The instructions are very straight forward; you simply sit the pig in the hog roast machine and turn it on! just like using an oven.
Passionate About Pleasing Our Customers
Today we are catering for Mario, who is having a Christening party in his parents back garden hog roast Stevenage. We seem to be getting more and more bookings for hog roast in Stevenage these days and this area of Hertfordshire is becoming a regular haunt for the Spitting Pig Hertfordshire teams for Hertfordshire hog roast catering events both big and small. Mario had asked for the pig to be served with the head on. This is unusual these days as most pigs come without a head, but with the family being Greek, the head is considered a delicacy and will almost certainly be eaten. We decided to cook the pig in the hog tray on this occasion and not on the spit. The difference being that when on the spit pole, the pig rotates. This is a focal point for the party and is a great spectacle when a lot of guests are gathered in the garden on a hot summers evening. When the pig is cooked in the hog tray, it sits inside the hog roast machine and the ends of the machine are sealed and it roasts while basting in its own juices. I actually believe the crackling does come out better using this method, although you do not get as much as there is no crackling around the belly of the pig. But the meat, especially the under belly is so succulent and moist it really does just melt in your mouth.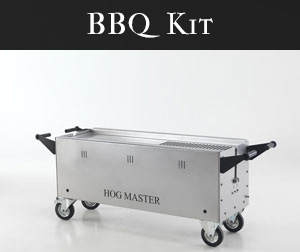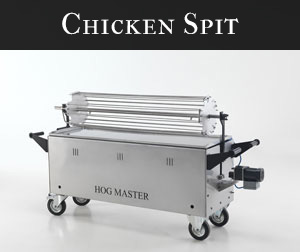 When we cook a pig this way, the different cuts of meat do cook completely different and it is good, especially at parties with around fifty or sixty guests to be able to take the time and ask what type of the meat they prefer and actually slice the meat and serve straight into the bun as we go along. A lot of guests like the moist, juicy meat from around the belly and as this has been basting in the juices for five or six hours. Today none of the guests were at the house in the morning and as it was so cold, only John and I were in the garden for the Tring hog roast . At serving time we lifted the pig to the serving position and the guests quickly nipped out to be greeted by the pig sitting there with a large apple in its mouth. After serving we carved the pig and left some large joints and several platters of sliced meat for Mario to put in the fridge for a later date. We put the head with apple in the mouth on a platter and dressed the platter with the spare ribs and it looked quite a spectacle sitting on the kitchen side as a centre piece in between the salads and meats they had set out to accompany the hog roast. After clearing up, we headed home and met up with a couple of mates for a game of squash and then a few pints in our favourite local, The steam coach, which over looks Boxmoor common and really is a nice place to unwind after a hard days work.
[peekaboo]
[peekaboo_content]
Tonight we had another 50th Birthday bash to cater for hog roast in Tring sports centre. Tina was celebrating her 5oth in style with a fancy dress themed party and we were providing a pig in a bun menu for about 80 guests. After I had set up the hog roast and got the pig cooking I stopped for a break and enjoyed a nice hot coffee on the touchline while I watched them play a league match. At half time I continued setting up the catering marquee and serving tables and had everything prepared for later on in the evening. I popped back to Hemel Hempstead where we are based and picked up Vania, one of our finest assistants as well as being a fully qualified chef herself. We also collected the freshly baked rolls from the Bread Company. they had been delivered while I was setting up. When we say large soft fresh rolls, that is what you are getting !! We have our rolls delivered to the door by Andy, and they are as fresh as you can get, in fact more often than not they are still nice and warm when they are delivered in the morning. A Tring hog roast is such a lovely way to eat pork, it really does keep the meat lovely and moist and the flavour from our UK sourced pigs really is so mouth watering, it would be a shame to ruin it by using a cash and carry frozen roll. So our fresh large soft flour rolls add to your experience of sampling the finest hog roasts in Hertfordshire and surrounding counties.
While travelling back to the Tring hog roast, with the van smelling like a local bakers shop, me and Vania caught up on what we had been up to over the last few weeks as Vania had not done a hog roast in Tring since the middle of December as she had flown back to her native France to spend Christmas and the new year with her family. We arrived at the catering marquee and the smell of the hog roast greeted us as we drove into the car park. Vania was already licking her lips and could not wait to have a roll later on in the night!! We served at 8:30pm bang on time as usual and the queue of hungry party revellers eagerly waited there turn to be served a 5" bun, loaded with the most succulent roasted pork with freshly made sage and onion stuffing and apple sauce. This is a good and filling meal for a party in the evening and all the guests certainly had a good helping as there was enough pork for about 150 guests. The entertainment for the night was three drag queens and they really did keep the crowd entertained for a good forty five minutes or so. Vania and I had a well earned break and joined in with the guests while enjoying a pig in a bun roll and a nice pint of ale.
We carved off the remaining meat and also carefully kept two whole rack of ribs which we left to be nibbled on during the evening and got on with cleaning up all the utensils, giving the machine a good wash down and cleared up all our equipment and headed home for a nice rewarding pint. For Weddings I actually supervise and keep everybody in the right place at the right time as well as liaising with the groom and best man, so all ticks along nicely. We will normally have two chefs, carving and serving the meat and crispy crackling. Two or three assistants serving salads, vegetables and potatoes and a few extra waiting staff helping out where needed. I will also have extra assistants who concentrates solely on washing up and preparation behind the scenes, unfortunately not often seen but doing a valuable job keeping the kitchen going.
Spitting Pig Hertfordshire is leading the way providing quality hog roasts in Hertfordshire and the surrounding counties of South East England. We are part of a national company called Spitting Pig and have the backing and expertise to provide spit roast catering for any occasion and any budget. We hire all over the county including hog roasts in Luton and other large towns. As well as a team of chefs and assistants with years of experience who expertly create spectacular feasts we offer a machine hire service locally and nationally for customers who wish to use their own skills to entertain their guests and clients. We lead the country with a range of hog roast machines that really are at the fore front of the industry. Having been catering and constantly updating, testing and developing machines over the last twenty years, Spitting Pig have what we believe to be the best machines on the market and are sure to provide you with a perfectly cooked, succulent hog with mouth watering crispy crackling. Our Titan range are manufactured using the finest stainless steel, to give a professional look whether being used for a party in your garden or for a hotel providing a hog roast as part of a hog roast wedding package.
The machine is very manoeuvrable, with large pneumatic tyres and steering handle. The versatility of the machines enables positioning at any event is done with ease. With two gas burners and the capability to cope with a 75kg hog, the Titan hog roast machine is more than capable to cope with up to 200 guests at a time. There is a viewing window so your guests can watch the hog slowly rotating whilst roasting in its own juices and they can watch the crackling, crisping up before their eyes. Hiring one of our Titan hog roast machines is simple and with prices as low as £250 for a weekends hire, or £450 including a 50 kg hog, racked, prepared and ready to cook. It really is a cost effective way to cater for many guests at a variety of functions from private parties, sporting events to hotel wedding packages. You are more than welcome to supply your own hog; they are readily available from most butchers perfect for your hog roast in Tring. There are two ways to cook a hog or lamb, the hog roast is the simplest method where the hog is simply placed in a purpose built stainless steel tray and cooked on a low heat for about six hours. The hog will cook away in its own juices. Once the hog is cooked, the tray is simply lifted into the carving position, and the hog roast juices drained off. The hog can then be carved and served to your guests.
The other method is known as spit roast and involves the hog or lamb being spitted on a pole. This is the method where you will be able to see the beast rotating and slowly cooking on the pole. This method is a little more daunting if you are supplying your own hog or lamb and if not experienced, we would not advise this method. However we normally supply the hog as well and will rack the hog on the pole so it is ready to cook. Depending on times, if we can start the cooking process for you, we will rub salt over the pig or stuff the lamb with rosemary and garlic and light the burners and then leave the cooking to you. We will fully explain the safe operation of the machines and advise and give any tips to help you, we will explain the carving process so when you come to show off your budding chef skills your guests will think you have been doing it for years. We do have a range of small machines which are ideally suited for lamb or joints of meat and these are available to hire at a cost of £195. Booking is a simple process, once you have confirmed your machine and meat requirements we will reserve a machine for you. Simply fill in the booking form and return to us with a deposit of £100 and your booking is confirmed. We will send a sales receipt with confirmation of your order and confirmation of your deposit. A suitable time of delivery will be arranged and one of our highly experienced team will deliver your machine and arrange a suitable time for collection.
All we ask is the machine and all attachments are returned clean and intact. We ask for a deposit of £100 and this is fully returnable when the machine and attachments are collected from one of our team. Of course once you have hired our machine, like many customers you may wish to buy one and entertain your friends or guests more often. If you would like to purchase a machine just let us know and we can arrange next day delivery anywhere in the country.
[/peekaboo_content]