If you require hog roast catering for an event then you have come to the right place. Spitting Pig Hertfordshire is the leading expert in the hog roast catering industry make an enquiry with us today and find out for yourself why we are known as the best throughout Hertford.
Whatever your event might be we will be more than happy to cater for you and your loved ones. We have extensive experience of private parties such as: birthdays, anniversaries, Christmas and other religious celebrations, christenings, funerals. We also have a huge client base that use our services for corporate events such as: business meetings, Staff parties, networking events, Promotional events as well as charity and fundraising occasions. Finally we also specialise in wedding catering.
There is nothing quite like a hog roast to create a spectacular atmosphere. The sight acts a talking point and centre piece for your guests to discuss and marvel at. While the pleasant aroma while awaken all appetites.
Why Choose Our Catering Services?
Unfortunately it seems that everybody has been to at least one party in their time where the food turned out to be a massive let down. Bland boring sandwiches accompanied by other tasteless party snacks or poorly cooked meals made using cheap ingredients. Disappointing catering like this can change the atmosphere of an event and makes everyone remember it as a failure.
Booking with Spitting Pig Hertfordshire can save you this embarrassment as we promise the feast we provide for yourself, friends and family will be fit for a king. Take a look at our sample menus today and you will see the vast choices we have on offer: canpaees, starters, mains, tasty buffet or BBQ options, desserts. You can create a menu that's right for you and your occasion, incorporating as much or as little as you like. Maybe you require a light option such as snack in a roll or maybe you want the full works. Just give us a call and together we can work out what's best for you.
Menus Designed To Impress Everyone
Unlike many of our competitors we make sure we always carry out all jobs to the very best standards. This means carrying out staff training, spending extra on produce to get better products which will create better food and never ever cutting corners. All of our menus are created, prepared and cooked by fully trained experienced chefs. At spitting pig Hertfordshire we don't compromise on quality so you can feel confident in the fact that only the freshest, finest ingredients have been used. Whenever possible we use locally sourced meats, vegetables etc.
[peekaboo]
[peekaboo_content]
Hire A Machine For Your Catering Event
We have several machines and various attachments, which mean we can cook a variety of fine fresh meats. Most popular is the hog roast but we offer lamb, beef, chicken, turkey and venison. We also offer jacket potatoes, salads and vegetables as well as bespoke menus. We also offer delicious buffets and BBQ's, so whatever your occasion, I'm sure you'll find what you are looking for on our websites or if you give us a call, we can make a tailor made menu for your requirements.
Our pigs are sourced in England, usually from the Suffolk area, they are born, bred and reared outdoors and are free to roam and live in their natural surroundings all their lives. They are delivered by our butcher twice a week so you can be assured they are as fresh as can be whether your party is at the weekend or during the week. If you would like an organic pig, or a particular breed we can source these for you. It will cost more but we will aim to cook what you want. We often have requests to roast home reared pigs, again this is no problem as I am prepared to travel and collect the pig from you. (As long as it is not still alive, I personally would not like to get to know the poor little porker before I cook it!)
Catering Any Occasion
Steve racks and scores the pigs the night before a function. (This takes about one hour, see our how to rack a pig blog if you are thinking of a DIY job and supplying your own pig) They are kept in chillers ensuring your pig is as fresh as possible and transported to your venue on the day. We only cook on site on the day of your event (never pre cooking a whole pig and re- heating or part cooking a whole pig. As you probably are aware, pork is a high risk meat and has to be thoroughly cooked through. Re- heating a whole pig is not the most sensible thing to do. Once on site, the first priority is to get your pig cooking, we can slow the cooking process down but if we start late the chances are you will eat late as we only serve when we have probed the meat and it is thoroughly cooked through. So we aim to arrive in plenty of time, we know a pig takes about six hours to cook properly and produce perfect crackling and with our years of experience we know if it's freezing cold it will take a little longer or we can add end plates to the machine to help with the cooking process and speed it up a little.
Our good friend Nigel, who is an alchemist in the kitchen and is constantly boasting what he has produced for dinner for his family, who's 40th Birthday party included a hog roast and first got us interested in this type of catering, supplies us with all sorts of the` potions and lotions' that we use. They are a closely guarded secret, as with other recipes, but they taste fabulous and range from sweet honey flavours to spicy chilli. After about six hours for your average size 40 KG pig, which will feed about 100 guests, we are ready to serve. We put the pig on the serving rack and place the hot tray underneath. The stuffing is prepared, and placed on the hot tray; this keeps it nice and hot and stops it going sticky. The salads and apple sauce placed on the buffet table and we start to cut the crackling off and place it in the serving trays. This is often a harder job than you would think as all of a sudden we have a crowd trying to pinch the crackling as we take it off.
The food is served as a buffet on most occasions and as we serve the meat and crackling into the delicious large soft flour rolls, the guests help themselves to apple sauce, stuffing and salads and condiments. We often have hot new potatoes in herb butter or roasted new potatoes with rosemary and garlic to accompany the hog and salads. These are kept hot in chaffing dishes and really do make a difference if you want that extra little touch to your meal. Of course, as I mentioned a 40 KG pig, will comfortably feed 100 guests. From experience we know how far we can push a pig to go on the night and never supply a pig that will only just feed your guests. We would rather supply a slightly larger pig so the portions are very generous and your guests feel they have had good feed. Most private parties probably have about 80 guests but if we know there is going to be 100 or just above we will opt for the larger size and then the big eaters have plenty to come back for.
Although our pigs come without the head as which is normal, they can be supplied with the head as well. They do come with trotters, which we normally remove, but on occasions if the pig has small legs (and they are really like us, all shapes and sizes. Long, short lanky and petite) we do leave them on. Some guests find these particularly enjoyable and will happily munch away on a trotter as a kind of canapé. After the pig has been stripped to the bone, we often find that dog owners like a bone or two for their hounds which we happily place in bags for them. On occasions we have also bagged the whole carcass up for guests who take it home, boil the bones and make pate, broths, stocks and soups. After we have packed up you would not even know we had been at your party. Everything is cleared and no mess left for you to clear up. You can carry on with your party knowing that all the catering has been taken care of and you can wake up the next morning without a kitchen full of dirty plates and food all over the place. Mind you, if it's been a good night there will still be plenty of bottles to clear up and if it's like some of our friends they might still be there to help you. That's the sign your party was a good one if they are still there!!
Lamb is the second most popular choice and is often used as the second choice meat in our wedding and party menus. We usually season the lamb with rosemary and garlic which really does give a delicious flavour but if you have a particular recipe you like, we will endeavour to use your own flavours. It only takes about four hours to cook and the smell as it roasts away will fill your garden with the most gorgeous aromas and have the neighbours poking their noses over the fence hoping they are going to get an invite!!
They are served with a mint and dill sauce and really are succulent, and accompanied by hot new potatoes in herb butter and our delicious salads make a mouth watering alternative to pork. The one problem with lamb is it is quite expensive as a lamb will only feed about 40 to 50 guests. We can provide extra legs for more guests. We can accommodate three turkeys on our machine; again they take about four hours, taste incredible and are often used as the second meat from our more detailed menus for weddings and more formal parties. They are served with cranberries and stuffing. Chickens are also a great alternative and we can cook thirty chickens at a time on our chicken spit. They are served with pigs in blankets and sage and onion stuffing. As you can imagine we cannot cook a whole cow in our machines, we offer a choice of sirloin of beef or top side and this is served with Yorkshire pudding, horse radish and mustard with red wine gravy if required. We often cook a mixture of two or three meats as the second choice for weddings, which gives your guests a greater choice for their meal.
Jacket potatoes are a popular choice and we can cook about 100 at a time on our attachment. They come out lovely and crispy on the outside and the middle is soft and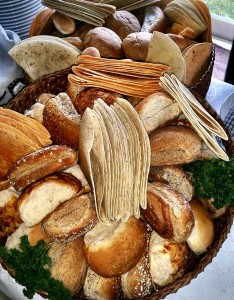 fluffy.
These are served with a variety of fillings such as grated cheese, tuna and mayonnaise, soured cream, baked beans, coleslaw or simply just butter.
All our menu's are available with fresh salads or vegetables and are served with the most tasty large soft flour baps or crusty rolls.
We offer a wide variety of finger and fork buffets for any occasion using the finest quality products. All our buffets are freshly prepared and we are available to stay at your function and cook hot items such as samosas, chipolata sausages, deep fried butterfly prawns, ect
Our BBQ's can be as little or as much as you like and we will tailor your menu to your requirements. From a simple menu of sausages, chicken wings and drumsticks and 100% beef burgers, to a more extravagant selection including marinated chicken breasts, minted lamb, spare ribs, chicken kebabs, vegetable kebabs and veggie burgers and sausages for your veggie friends We only use the finest ingredients and are all made from our local butcher. They are accompanied by a selection of rolls, condiments and salads if required.
Our mission at Spitting Pig Hertfordshire is to constantly provide the best possible food with outstanding service and at reasonable prices. Call or email us today for a personal package and quote.[/peekaboo_content]